Factors Affecting Strategy Implementation Among Small Business Organizations
A Case of Second-Hand Car Dealers in Selected Showrooms in Nairobi County
Keywords:
Strategy implementation, small business organization, Competitive Advantage, Second-hand car dealers
Abstract
The purpose of this paper is to examine the factors that are affecting strategy implementation among small business organizations dealing with second-hand cars in selected showrooms in Nairobi County. The study adopted a case study design. The study specifically focused on five Nairobi-based second-hand car dealer companies: CarMax East Africa, A Plus Motors, Motor Hub Motors, Silverstone Motors, and Axis Motors. A census was used in this study whereby all the participants included in the target population had an equal chance to participate in the study. Data were collected using a quantitative structured questionnaire. Multiple regression analysis was used to determine whether a group of independent variables - organizational resources, employee involvement, management skills, and organizational culture - together predict a given dependent variable - strategy implementation. Correlation analysis was used to measure the strength of association between two variables and the direction of the relationship. The findings of the present study revealed that organizational factors such as organizational resources, p (0.000) which was less than 0.05, employee involvement p (0.003), management skills p (0.000), and organizational culture p (0.000) were affecting positively and significantly the effectiveness of the implementation of strategy among small business organizations dealing with second-hand cars in Nairobi.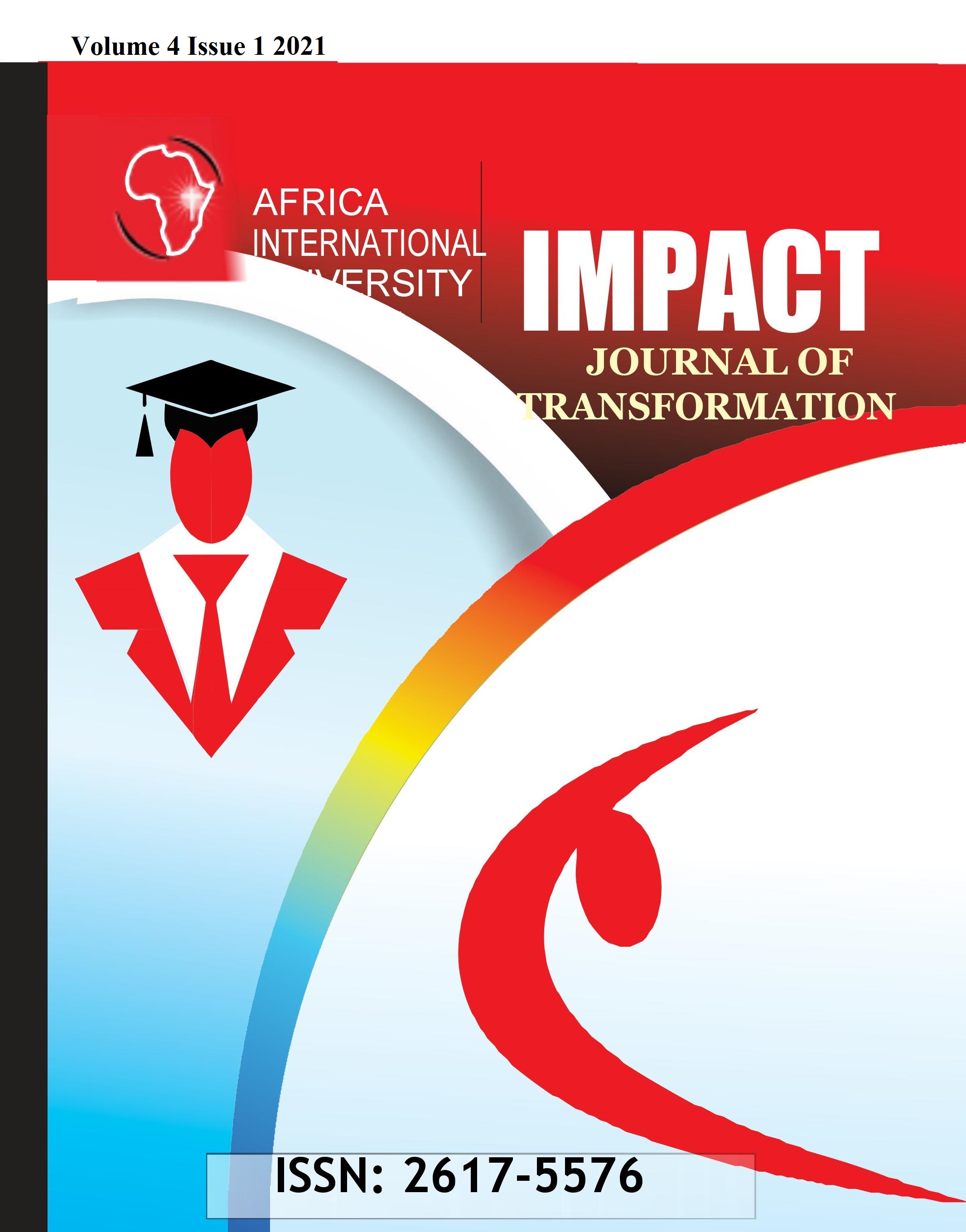 Downloads
How to Cite
Kabiru , K., Tshibangu , G. M. ., & Warue, B. (2021). Factors Affecting Strategy Implementation Among Small Business Organizations: A Case of Second-Hand Car Dealers in Selected Showrooms in Nairobi County . Impact: Journal of Transformation, 4(2), 81–95. Retrieved from http://library.africainternational.edu/index.php/impact/article/view/102
License
Copyright (c) 2021 Kevin Kabiru , Godfrey Mwamba Tshibangu , Beatrice Warue
This work is licensed under a Creative Commons Attribution 4.0 International License.