EXPLORING CAUSES OF POVERTY IN AFRICA WITH REFERENCE TO ABANYOLE OF VIHIGA COUNTY IN WESTERN KENYA AS A MEANS OF ADDRESSING THE MENACE
Keywords:
Poverty, Abanyole, Education, Leadership, Theology, Alcohol and Drug abuse, Africa
Abstract
Poverty is a global challenge with its impact widely experienced in Sub-Saharan Africa. The Kenyan condition is graver with 2005/2006 KNBS research on poverty pointing out that Western Province, which includes the Abanyole, "is among the poorest parts of Kenya ..." The purpose of this study is to investigate the causes of poverty in Africa in general and particularly in Kenya with special reference to Abanyole of Vihiga County in Western Province. Abanyole, sometimes referred to as Banyore, is a subtribe of the Luhya ethnic group. This paper gives a historical background of the Abanyole that includes some of the great achievements of its sons and daughters who have made great strides in theology and church leadership, education, research, and international leadership. Though Abanyole boast of their highly gifted representatives, there does not seem to be a marked impact on its socio-economic sector as run-away poverty and high rates of alcohol and drug abuse take their toll on the community. The objectives of the study are to discover the causes of poverty among the Abanyole with a special focus on political, economic, and religious perspectives. Significance of this study is in its expected benefits to a variety of people and institutions ranging from Abanyole, government policymakers, the church, non-governmental agencies, and scholars with interests in development. Methodology for the study is multi-pronged, comprising library research, limited personal interviews, and a critical analysis of causes unearthed by scholars and government sources.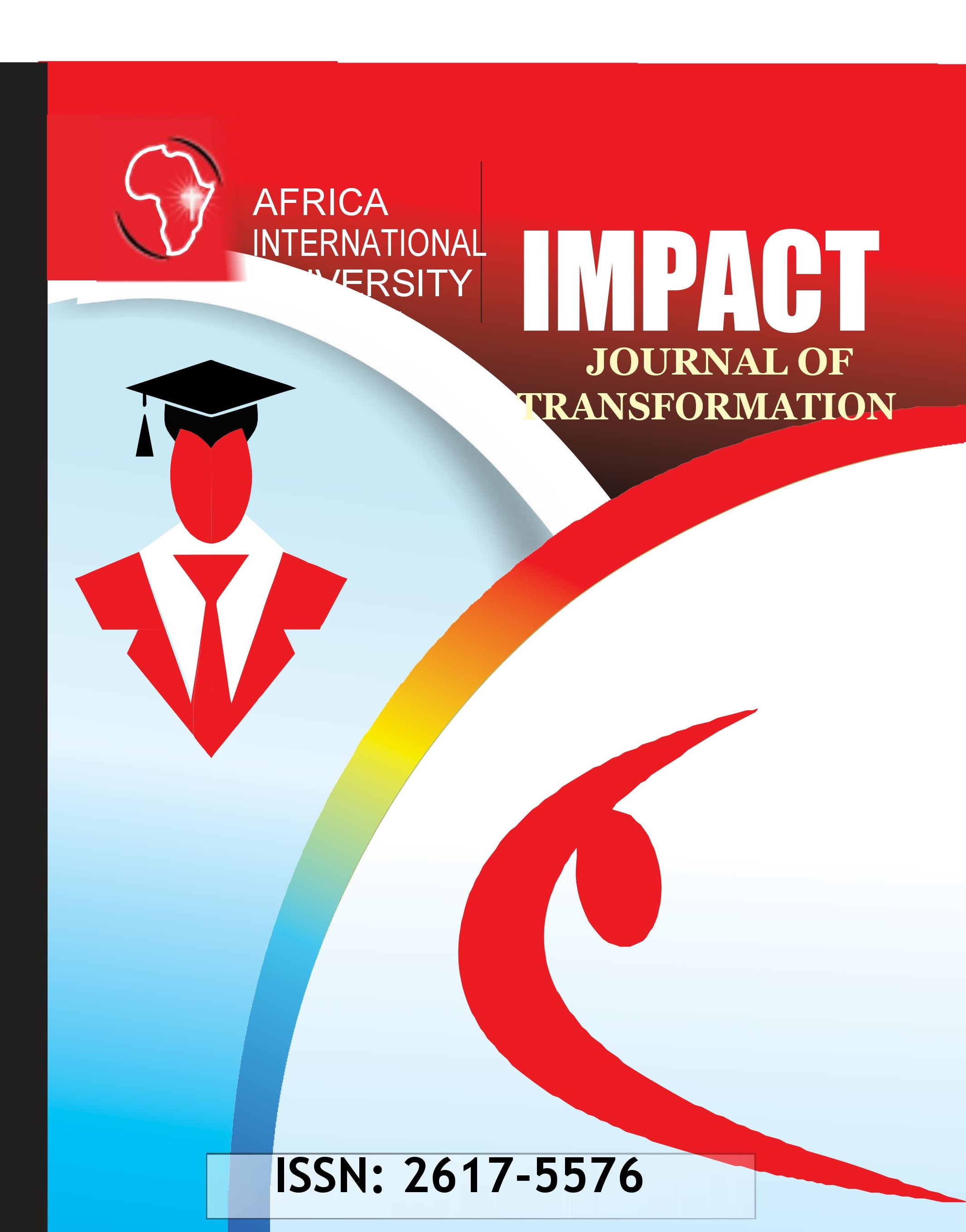 Downloads
How to Cite
Muchilwa, B. A. (2020). EXPLORING CAUSES OF POVERTY IN AFRICA WITH REFERENCE TO ABANYOLE OF VIHIGA COUNTY IN WESTERN KENYA AS A MEANS OF ADDRESSING THE MENACE. Impact: Journal of Transformation, 3(1), 80-87. Retrieved from http://library.africainternational.edu/index.php/impact/article/view/55