The Effect of the African Culture on Effective Leadership
A Case of Africa International University
Keywords:
African culture, Effective leadership, Ubuntu, Values, Belief systems.
Abstract
Africa is rich with diverse cultures from different communities. The various cultures are defined by social habits, language, morals, values, practices, and customs among other aspects. Cultural diversity is a valuable addition to the development and leadership in Africa for it informs and shapes peoples' perceptions, behaviors, expectations, performance, and decision-making processes. People thus interpret and transfer information from their environmental perspective and work with the same worldviews to attain their goals.  Therefore, the effectiveness of a leader and his performance must be examined against the nature of a given society. Leadership in Africa has experienced many challenges such as dependency, corruption, nepotism, and mistrust among other vices that might lead to ineffectiveness and unproductiveness in society. The purpose of this paper is to examine the influence of African culture on effective leadership at Africa International University. The study seeks to answer the following questions: To what extent does Ubuntu influence effective leadership at Africa International University? To what extent do values influence effective leadership at Africa International University? To what extent does the belief system influence effective leadership at Africa International University. This study used a quantitative method, adopting a correlational design. The study drew from rich experiences that emanate from different communities that are represented in Africa International University from different nationalities that were divided into four regions: East African, West African, Central African, and South African region. The total population of the study is N = 1007. The sample is n = 91 which, is calculated using Nassiuma's sample size formula. Data was collected using self-developed questionnaires by the researchers, that were submitted using google. In conclusion, there is a positive statistically significant relationship between effective leadership at Africa International University and the following three values: Ubuntu, values, and the organizationally supported Christian belief system.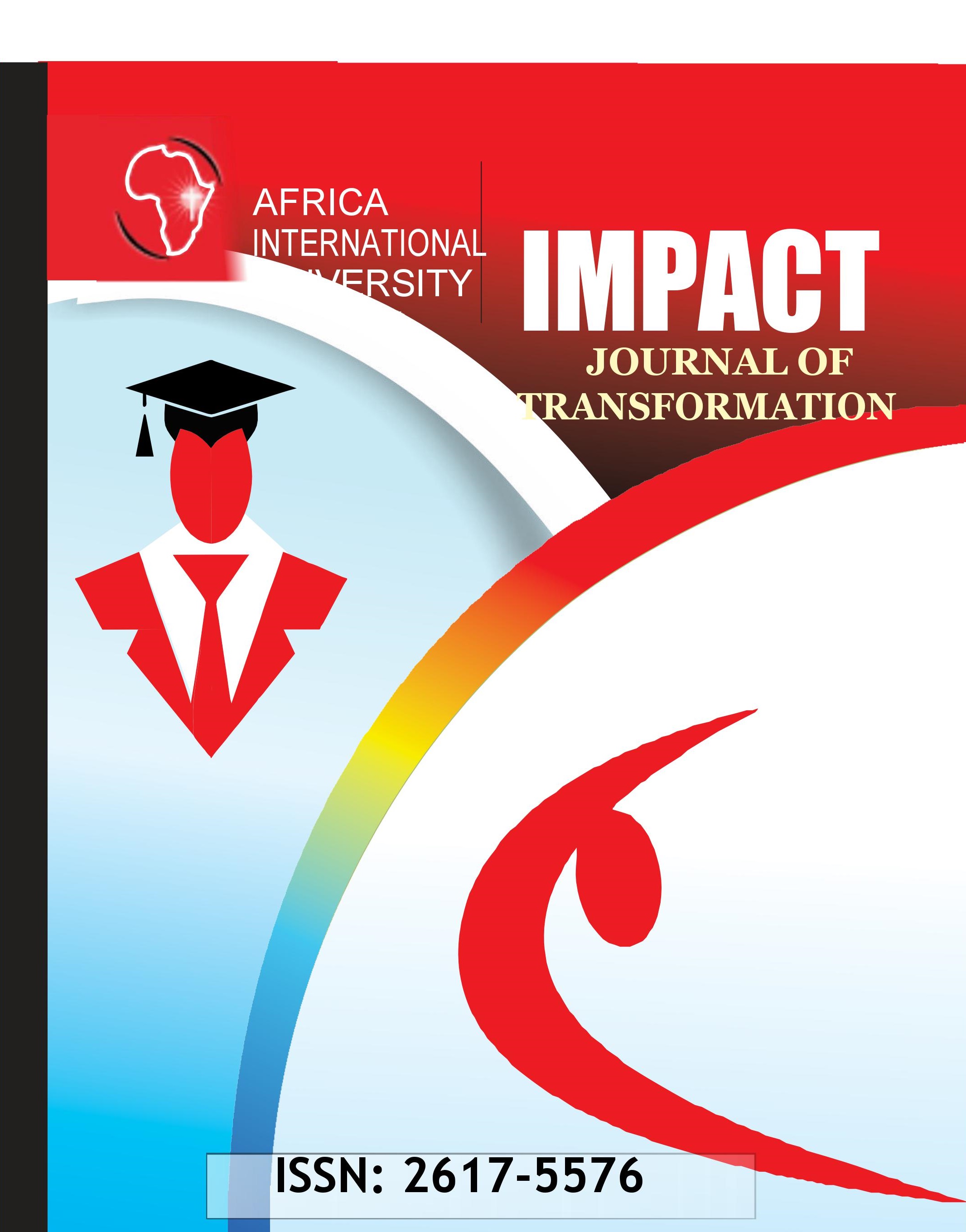 Downloads
How to Cite
Muteti, R. ., & Munyekenye, L. . (2020). The Effect of the African Culture on Effective Leadership: A Case of Africa International University. Impact: Journal of Transformation, 3(2), 43-56. Retrieved from http://library.africainternational.edu/index.php/impact/article/view/67
License
Copyright (c) 2020 Rachel Muteti, Lilian Munyekenye
This work is licensed under a Creative Commons Attribution 4.0 International License.