Impact of COVID-19 Pandemic on the Church's Socioeconomic Well-Being
A Case of Worldwide Gospel Church of Kenya-Githurai Presbytery
Keywords:
Covid-19, church, social status, economic status, solution
Abstract
Pandemics such as COVID-19 are known to inflict both positive and negative effects socially and economically on individuals and organizations including churches through the imposition of containment measures such as lockdowns and social distancing. Previous studies have revealed that such pandemics have resulted in church members' financial constraints due to loss of livelihood, besides disrupting church activities. There have been increased cases of psychological and spiritual problems by members. The aim of this paper is to investigate the impact of COVID-19 on the church socioeconomic well-being with the major focus on the Worldwide Gospel Church of Kenya-Githurai Presbytery. The objectives of the study are to determine the impact of COVID-19 on the economic status of the church, its programmes and activities and to find remedies taken by the church as a solution to the impact of COVID-19. The study adopted a descriptive research design with a target population of 150 pastors in Worldwide Gospel Church of Kenya Githurai Presbytery. Fifty pastors were selected using a simple random sampling method which is one third (33%) of the population. The data was collected using semi-structured questionnaires, which were distributed through personal emails and WhatsApp Messenger. Both descriptive statistics and content analysis were employed to analyse the data. COVID-19 was found to negatively affect the church socially and economically: the church finances were depleted and as such, the church was unable to meet its financial obligations. Socially, church programmes were disrupted and some members moved to other established churches. The churches need to diversify and invest in income-generating activities and pastors to be tentmakers like Paul the Apostle. The church should also intensify the use of technology in some of its programmes such as holding online meetings, particularly when a majority of the members are not physically available.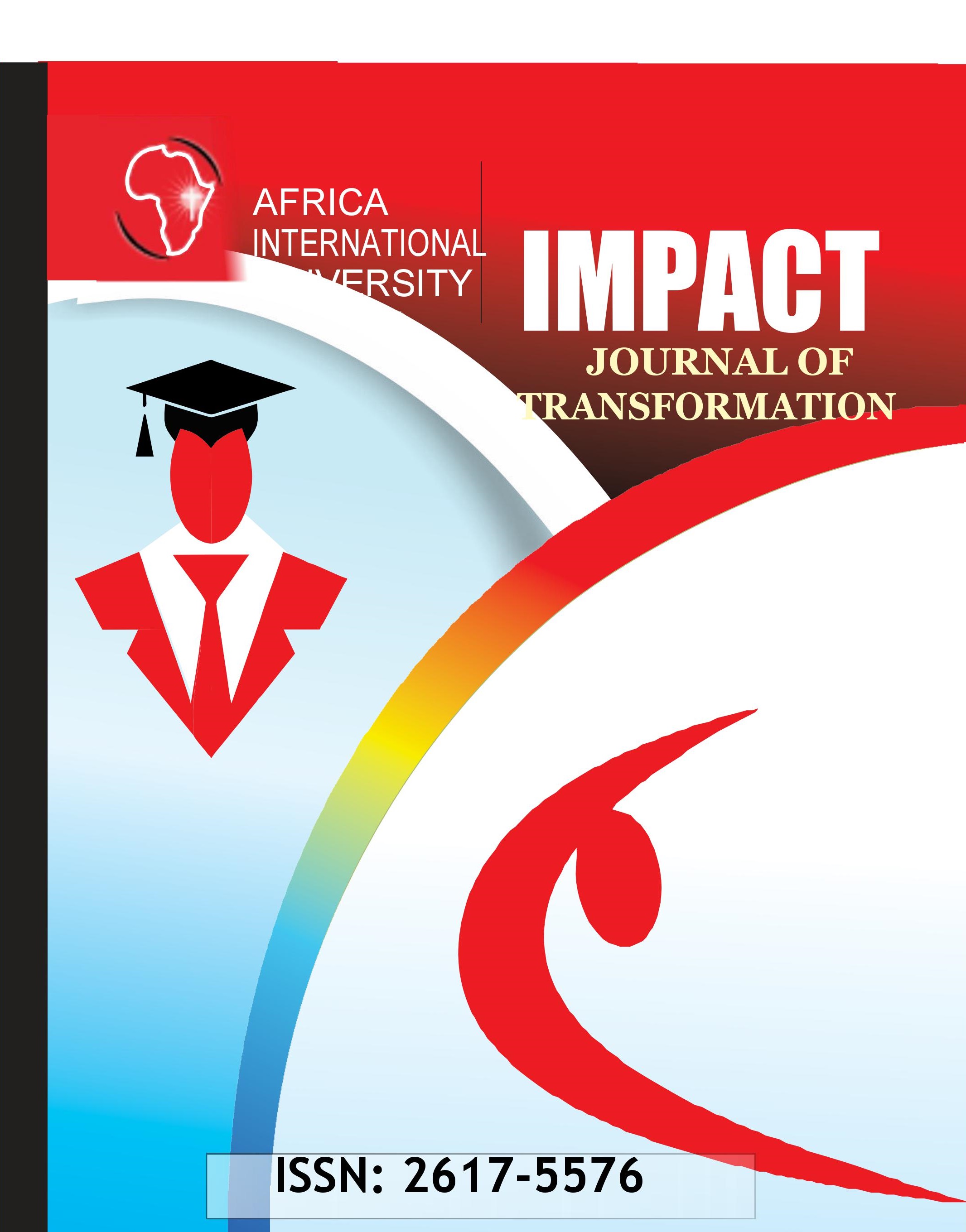 Downloads
How to Cite
Thiga, J. M. . (2021). Impact of COVID-19 Pandemic on the Church's Socioeconomic Well-Being: A Case of Worldwide Gospel Church of Kenya-Githurai Presbytery. Impact: Journal of Transformation, 4(1), 36-45. Retrieved from http://library.africainternational.edu/index.php/impact/article/view/84
License
Copyright (c) 2021 Mr. John Miatu Thiga
This work is licensed under a Creative Commons Attribution 4.0 International License.